LED illuminated Signboards
Designed to increase visibility and promote your property at night. Available in a variety of sizes.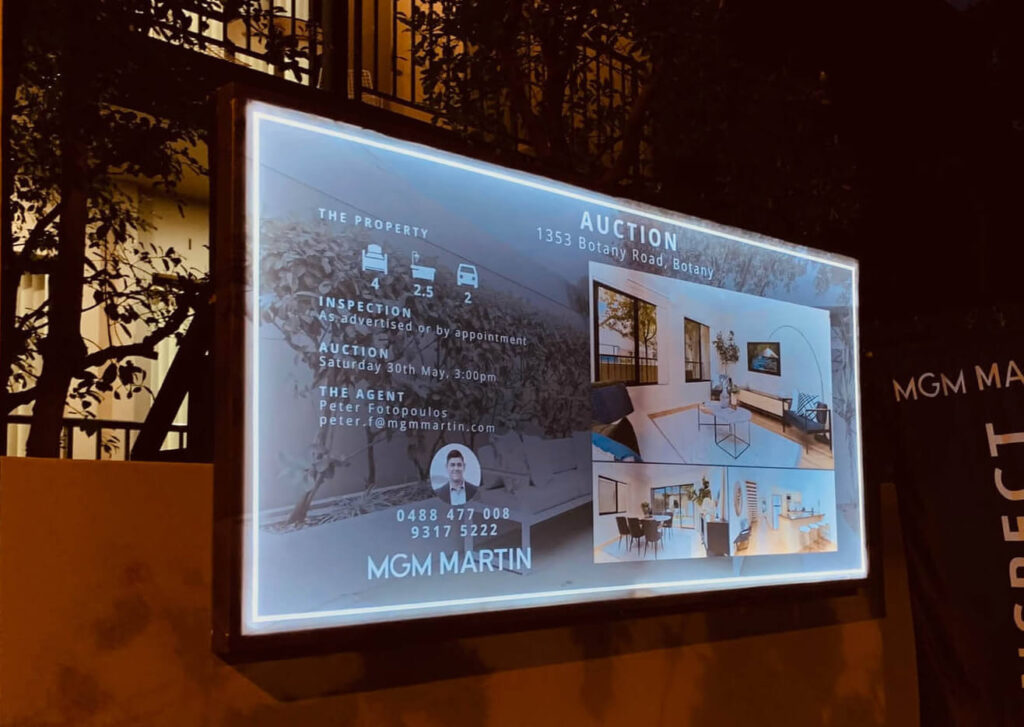 Solar Illuminated or Power Illuminated can be pre-programed to automatically light up and turn off, this is a great option to increase visibility and promote your property at night. Our signs are digitally printed onto a high-quality backlit PVC Canvas material to enhance the images, logos and text.
Our sizes available in landscape or portrait style:
4×6 – 1220mm x 1830mm
4×8 – 1220mm x 2440mm
6×8 – 1830mm x 2440mm
Contact us today to learn more about our LED sign options and get a free quote.
Adpak Digital Printing offers custom LED Illuminated Signs, Lighted Signs & Light Box Signage. This is a brilliant way to communicate your business message or brand and stand out from the crowd. We work collaboratively with you to create effective LED backlit signage to suit your budget, brand and environment. We take into account the type of message you want to communicate, the location of your sign and the look and feel of your brand when designing and manufacturing your LED signs. Whether you need an LED sign for indoor or outdoor use, we can create a sign that meets your needs and exceed your expectations.
No matter what type of business you have, LED illuminated signs are one of the most popular type of signage available on the market. LED, or Light Emitting Diodes, are more energy efficient than traditional incandescent bulbs and can last for many years with proper care. LED illuminated signage is an excellent way to make a statement.
LED Illuminated Signs are a great way to get noticed. They can include Retail Shop Signage, Shopping Center Signs, Reception Signs, Corporate Signage, Restaurant Cafe Signage, Real Estate Signage, and much more. LED signs are eye-catching and can help you stand out from the competition. They are also very versatile and can be used in a variety of settings. LED illuminated signs are a great way to attract attention and increase foot traffic. If you are looking for a way to promote your business, LED signs are a great option.
An example of how LED Signs can work great; Any business owner knows that creating a well-designed, eye-catching sign is an important step in attracting customers and boosting sales. Real estate businesses are no exception. A well-chosen sign can help to draw attention to a property and make it more visible to potential buyers.LED illuminated signs are an increasingly popular option for real estate businesses. These signs use energy-efficient LED bulbs to create a bright, uniform light that is highly visible, even in direct sunlight. In addition, LED signs are often programmable, so they can be easily updated to reflect changes in price or availability. As a result, they offer an ideal solution for businesses that need to constantly update their signage. Whether you're looking to sell a property or simply advertise your real estate business, LED illuminated signs are a great way to get noticed.
Why are LED signs the best option for illuminated signage? First and foremost, LED signs consume far less power than traditional incandescent bulbs, which results in long-term cost savings. Additionally, LED signs are much more durable than their predecessors, with a lifespan that can exceed 100,000 hours. This means that businesses won't have to constantly replace burned-out bulbs, saving both time and money. Finally, LED signs are available in a wide range of colors and can be programmed to create dynamic, eye-catching displays. Thanks to these advantages, it's no wonder that LED signs are becoming the standard for illuminated signage. The best part of an LED sign is that it stands out, looks modern, is eye catching and the best way to promote your business.
How long will an LED sign take for installation? The time it will take to install your new LED illuminated signs will depend on a few factors, including the size and complexity of the sign, as well as the number of signs being installed. In most cases, our team of professional installers can have your new sign up and within 48 hours of approval. However, if you have a very large or complex sign, or if you are ordering multiple signs, it may take a day or two to complete the installation. In any case, our team will work quickly and efficiently to get your new sign up and running as soon as possible.