We stock a wide selection of A-Frames & push-in Sign Holders suitable for a range of applications.


Endurosign A-Frame
600x450mm flipover Endurosign, display sticker with message of your choice.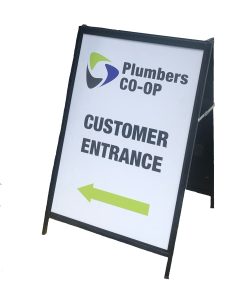 A-Frame
Black steel A-frame 600x600mm (2x2')
Black steel A-frame 600x900mm (2x3')
Black steel A-frame 900x1200mm (3x4')
Sign Holder
Push-in Sign Holder, black plastic frame with 3 metal spikes (500x400mm double sided)
Our Real Estate clients love the versatility of A-Frames, Enduro Signs and Push in Signholders. They can be placed anywhere to gain exposure or point your clients in the right direction and are lightweight and portable. Designed for outdoor use. Can be single or double sided.
Real Estate A-Frame signs are a great way to advertise the awareness and give directions to the house that your company is selling or leasing. Real Estate A frame signs are also a great way to increase your visibility. They are easy to move and update, and they come in a variety of sizes and colors. Real Estate A-Frame signs are made of durable materials that can withstand weather conditions and brightly display your business name, logo, and contact information. Real Estate A-Frame signs are double sided, so viewers coming from both directions can see what's being advertised.
We design and make unique real estate directional signs for real estate agencies all over Australia. These signs are A-frame sign boards for real estate agents who want to offer directions to locations of the homes they are selling. Real Estate A-Frame Signs are an essential marketing tool for any real estate agencies for a number of reasons such as brand awareness and directions and etc. Investing in Real Estate A frame signs is a sure-fire way to attract more customers, the real estate market is so competitive and A-Frame Signs are a good low cost marketing tool to get raise your companies profile. Real Estate A-Frames are an essential tool in any Real Estate Agent's Marketing Strategy. Real Estate A-Frames Signs can be used indoors or outdoors and will help increase the foot traffic to your property listings. Real Estate A-Frames & Signs also help to promote open houses and other events related to Real Estate.
Adpak Digital Printing offer real estate agent signs across Australia for those who are looking for high-quality property signs. Open Home Signs offers a variety of products for any form of marketing or campaigns for real estate businesses. Get in contact with Adpak Digital Printing for everything you need to know about A-Frame Signage or Real Estate Signage.
However, there are a few things to consider when choosing a plastic A-Frame sign. Ensure the bottom of the sign is weighted, to avoid the sign falling over. UV rated over laminate are best to stop signs from fading over time. Make sure the coating also repels water and sand to stop any damage. By considering these factors, you can be sure to choose the right A-Frame sign for your business.